Taapsee Pannu Film Shabaash Mithu Release on 2 February 2022 makers reveals on Mithali Raj Birthday
Taapsee Pannu Film Shabaash Mithu Release on 2 February 2022 makers reveals on Mithali Raj Birthday
Today is the birthday of cricketer Mithali Raj. On this special occasion, the makers of Taapsee Pannu starrer film Shabaash Mithu have given her a wonderful gift. He has announced the release date of Mithali's biopic film 'Shabaash Mithu'. The film will create panic on the big screen next year. After MS Dhoni, this is the fourth film based on cricket after 'Jersey' and '83', which is made on cricket.
Shabash Mithu in theaters on 4th February 2022
In 'Shabaash Mithu', Taapsee Pannu plays the role of Mithali, who led the Indian team to the Women's World Cup final in 2017. The film is going to release next year i.e. on 4 February 2022. With the announcement of the release date, Viacom 18 wrote – 'A girl breaks world records and stereotypes with her cricket bat. You have done this amazing Champ. Happy Birthday Mithu. Well done Mittu in theaters on 4th February 2022.'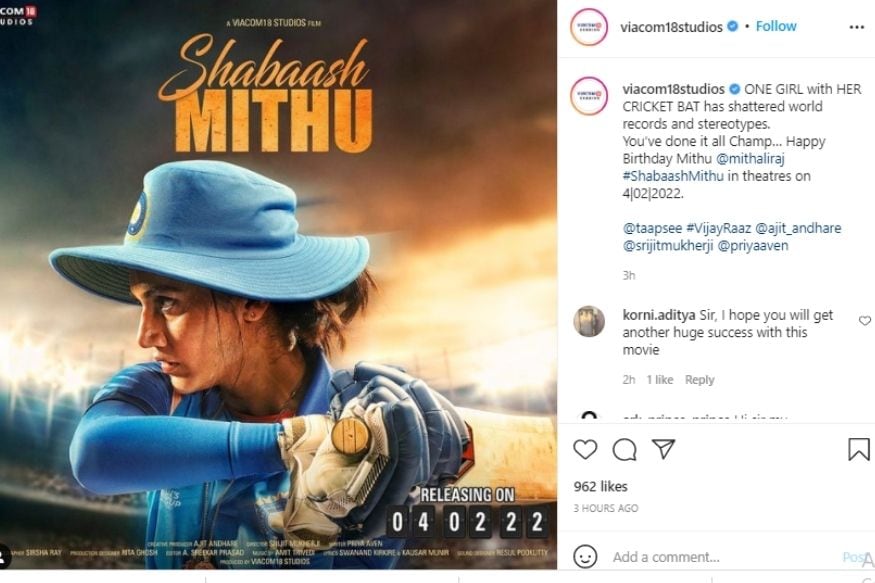 Taapsee's new look
Makers have shared the poster, in which Taapsee is seen in the look of a cricketer. Fans are liking this look of Taapsee.
Mithali Raj says 'thank you' to the makers
Mithali Raj shared a poster of the film from her social media account and wrote in the caption – 'Woke up with this amazing news. I can't describe how grateful and excited I am. Thanks to everyone for making 'Shabash Mithu'. #ShabaashMithu will be released in theaters on 4th February 2022.'
Srijit Mukherjee has directed the film
Let us tell you that this film has been directed by Srijit Mukherjee, while it has been written by Priya Avon. Viacom is the 18 producer who has made the biopic of Mary Kom. Priya Avon will also be seen playing the lead role in the film along with Vijay Raj.
There will be a clash in 'Well done Mittu and Badhaai Do
Earlier this film was to be released on 26 January but now this film will also hit the theaters on 4 February. In such a situation, the film 'Shabash Mithu and Badhaai Do' will be in front of each other. Let us tell you that Rajkumar Rao- Bhumi Pednekar's film 'Badhaai Do' is a sequel to Ayushmann Khurrana's Badhaai Ho.